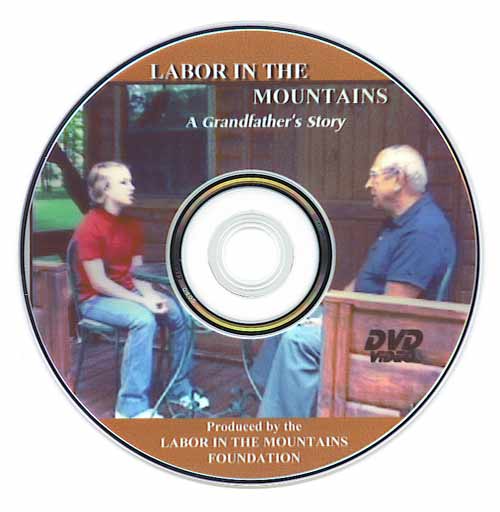 Labor in the Mountains is a 55-minute video on the history of labor in West Virginia, told from the viewpoint of a retired worker who lived through much of that history, in response to questions about labor unions from his teen-age granddaughter. The video is divided into two parts of roughly the same length. The first part is introduced by the grandfather as he attempts to explain what labor unions are, and how they came into being in West Virginia. This part begins with the role of union workers in support of the formation of the state during the Civil War, goes through the Great Uprising and General Strike in 1877, and into the story of coal miners and their struggles for justice and fair treatment in the late 19th and early 20th centuries, and the rise of the United Mine Workers of America. It then shifts to the challenges faced by workers in other industries in the state, like glass, steel, and chemicals, as they also organized.
The second part involves interviews from a range of current labor leaders who comment on how organized labor essentially built the middle-class in West Virginia through organizing and collective bargaining, in coal and other basic industries. They discuss how workers achieved both economic and political power through their unions. With the arrival of deindustrialization and the considerable loss of industrial jobs in West Virginia, organized labor has shifted much of its base into service-providing jobs and into the public sector at the state and local government levels. The interviewed leaders discuss these trends and end with comments on their concerns about the challenges facing working families in West Virginia in the immediate future.
Harry E, Lester, recently retired director of United Steel Workers of America District 2 and who is originally from Bud, WV, in the state's southern coalfields, plays the grandfather. His real life granddaughter, Elizabeth Lester, plays herself in the video.
Labor in the Mountains is a production of the non-profit Labor in the Mountains Foundation. It is available in DVD or VHS formats at $5 for either version.
Mail order form and check to:

Labor in the Mountains Foundation
ILSR
719 Knapp Hall
Morgantown, WV 26506

Telephone: (304) 293-3323
Toll Free: 1-800-499-0486
Fax: (304) 293-3395