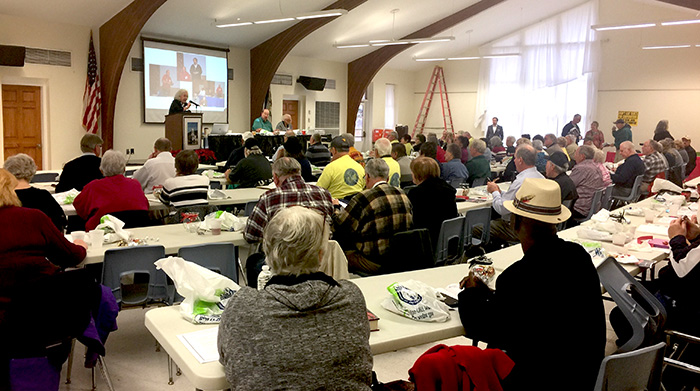 RIPLEY – The West Virginia Alliance for Retired Americans today concluded its 13th annual convention, where the more than 100 attendees discussed how to educate, energize and mobilize seniors to make a difference through activism.
The group -- part of a unique national organization that was launched in 2001 by a coalition of AFL-CIO affiliated unions and community-based organizations dedicated to economic and social justice – met at Cedar Lakes Conference Center and re-elected President Virginia Moles, a Kanawha County resident who has served in that capacity since 2013, and elected Terry Cunningham of Cabell County to serve as Treasurer.
"I am elated with how engaged and motivated our members are, and am truly honored to be once again elected to lead this group," Moles said. "Considering the detrimental changes to our health care and tax systems that Congress is considering, and the state legislation adopted over the past three years that threaten the well-being of West Virginians, our members know that this is a critical time, and we must make sure that retirees and older West Virginians have a voice."
The year's convention – the theme being "Retirees Under Attack … It's Time to Fight Back!" – included featured speaker Karen Gorrell, spokeswoman for the group of Century Aluminum retirees who spent seven years fighting to regain lifetime health benefits that the company had promised, but then canceled.
The retirees, stripped of their health benefits in 2010, finally received their first installment of their $23 million settlement this fall.
"Everybody was devastated – nobody thought we would win," she said. "It was the fight of our lives."
The battle took Gorrell and the group of retirees, who eventually became known as "the modern-day Mother Jones and her Silver-Haired Brigade," to the halls of the West Virginia Capitol, Washington D.C., and across the country. They and their supporters even took turns camping on Century's Ravenswood site for 78 days, receiving donations of money and food in support.
"Karen and the other Century retirees provide a shining example of how retirees and senior West Virginians can, and should, stand up for themselves and the rights of their peers," Moles said. "We are extremely proud of them."
Kanawha County resident Spud Terry serves as the Executive Vice President and Jackson County resident Betty Totten is Secretary. The following are the members of the West Virginia Alliance for Retired Americans Executive Board:
1st Congressional District: Bill Hartwell, Tyler County; Sharon Hartwell, Tyler County; Rosie Saunders, Marion County; Sue Kelley, Marion County.
2nd Congressional District: Larry LaCorte Sr., Jackson County; Robert Hardesty, Kanawha County; Les Shockey, Jackson County; Kay Moffatt, Kanawha County.
3rd Congressional District: Elsen Garrett, Cabell County; Rick Lewis, Cabell County; Mercedes Sayre, Jackson County; Floyd Sayre, Jackson County.
* Attached are: WVARA 1 – WVARA President Virginia Moles speaks before a packed convention. WVARA 2 – Karen Gorrell talks about the seven-year fight to win back health benefits for Century Aluminum retirees.