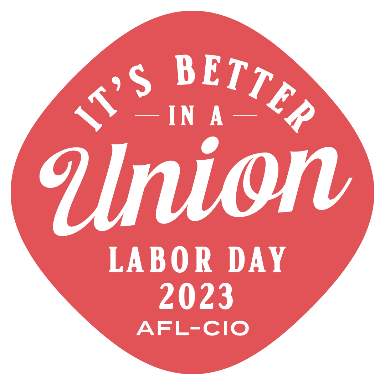 As West Virginians enjoy spending time with family and friends this Labor Day weekend, the West Virginia AFL-CIO invites residents to attend one of the many parades and events honoring the achievements of America's working people.
"This Labor Day weekend, as we celebrate the working families of our country, especially here in West Virginia, we are also thankful that unions continue to enjoy the support of the public," WV AFL-CIO President Josh Sword said.
According to a Gallop Poll released this week, 67% of Americans approve of them, similar to the elevated level seen in recent years after more than a decade of rising support.
"That mirrors what the national AFL-CIO found in another poll this month, that among registered voters of all parties, 7 in 10 (71%) approve of labor unions, and nearly 9 in 10 (88%) of people under the age of 30 view unions favorably," Sword said. "Every day, more and more people are realizing that it's better to be in a union."
WV AFL-CIO Secretary-Treasurer Andy Walters added, "It's clear that Americans are increasingly aware of the huge contrast between the average worker's salary and the salaries of the top CEOs."
He pointed to the AFL-CIO's annual Executive Paywatch Report, a comprehensive database tracing CEO-to-worker pay ratios, which shows that in 2022, the average CEO-to-worker pay ratio among S&P 500 Index companies was 272-to-1.
"So the average big company CEO made 272 times more than the average worker, while worker wages, when adjusted for inflation, fell 2.4 percent in 2021," Walters said. "CEO compensation is up, because company profits are up, but employee wages are down."
"People all around the country are realizing unions are the single best tool we have to fight back against that," he said.
The following are Labor Day events taking place this weekend:
Marion County AFL-CIO, Marion County Democrats & UMWA Labor Day Celebration and Picnic
Sunday, Sept. 3, 2023, noon to 4 p.m.
Hough Park, Mannington WV
Special Guest: UMWA Secretary-Treasurer Brian Sanson
Contact: Mark Dorsey, 304-777-7642,This email address is being protected from spambots. You need JavaScript enabled to view it.
Celebration of Labor 2023 at GoMart Park
Sunday, Sept. 3, 2023, 4:05 p.m., gates open at 3:30 – Double Header
Free tickets for union members and their families
A tailgate/cookout will be held from 1-3 p.m., 600 Leon Sullivan Way for union members & families
United Mine Workers of America 84th Annual Labor Day Celebration & Picnic
Monday, Sept. 4, 2023, at 11 a.m.
John Slack Memorial Park, Racine, WV
Contact: Brian Lacy, 304-541-3948,This email address is being protected from spambots. You need JavaScript enabled to view it.
Paden City Labor Day Parade – Marshall-Wetzel-Tyler, AFL-CIO, a participant
Monday, Sept. 4, 2023, 1 p.m. (noon lineup at South End of town)
Free Jimmy Fortune Concert, 7:30 p.m. (a former member of the Statler Brothers, brought to you by the unions of the Marshall-Wetzel-Tyler Labor Council, AFL-CIO, and Gold, Khourey & Turak, Attorneys at Law)
Contact: BB Smith, 304-545-7781,This email address is being protected from spambots. You need JavaScript enabled to view it.
*Note: Additional entertainment will be provided Saturday through Sunday starting at 2 p.m. at Paden City Park.
Marmet City Labor Day Parade – Kanawha Valley Labor Council, AFL-CIO, a participant
Monday, Sept. 4, 2023, at 10 a.m. Meet 9 a.m. at Marmet Elementary School
Wear your union apparel and bring your union banners
Contact: Elaine Harris, 304-541-7293, This email address is being protected from spambots. You need JavaScript enabled to view it.
*Note: Marmet will host four days of music and speakers beginning 4 p.m. Friday. UMWA President Cecil Roberts will speak at 1:45 p.m. Saturday, followed by a presentation on the UMWA Mine Wars/Mother Jones