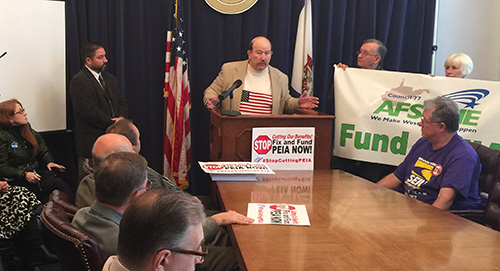 CHARLESTON – With the legislative session already half over, concerned public employees and their representatives today called on lawmakers to work toward finding a way to properly fund the state Public Employee Insurance Agency.
"We've got to fix this," said Danette Clark, a West Virginia Corrections Counselor who has worked for the state for the past 22 years. "We've got to help our own."
PEIA's budget has remained unchanged for the past five years, despite the fact that more than 3,600 more new employees have been added to the program while medical and drug costs are increasing by an average of 6 percent per year. Without action by the Legislature, the PEIA Finance Board will be forced to cut $120 million of earned benefits from active and retired public employees.
During a press conference today, Christine Campbell, President of American Federation of Teachers – West Virginia President, presented a petition with more than 4,200 signatures calling on the legislative leadership to fund PEIA.
"We need to recognize the effect these cuts will have on our communities when more residents are driven into poverty," Campbell said. "It's time for action."
State retiree Ernest "Spud" Terry noted that retirees have not been provided with a cost-of-living increase in many years. He said his pension is worth about 34 percent of what it was when he retired in 1999.
"We are struggling," he said.
West Virginia AFL-CIO Secretary-Treasurer Josh Sword, who sits on the PEIA Finance Board along with Elaine Harris, the state's international representative for the Communications Workers of America and a vice president with the West Virginia AFL-CIO, said if the $120 million cuts are enacted, deductibles will increase $500 for single coverage and $1,000 for family plans, while out-of-pocket maximum expenses will increase $1,500 for single and $3,000 for family.
"The sickest, most vulnerable employees will face the most dramatic increases," Sword said. "Many will no longer be able to afford their prescription medications."
Bridget Davis, who works for the state Public Service Commission, said she has had to undergo several procedures, a cost of $2,000 each, to treat macular degeneration, which can lead to blindness.
"State employee wages have remained virtually stagnant," she said. "I'm afraid this could financially bankrupt me eventually."
Because the Legislature controls funding for PEIA, Sword said the hands of the PEIA Finance Board are tied.
"Our problem has nothing to do with the management of PEIA and everything to do with legislative priorities," he said. "The Legislative leadership can choose to help us or they can choose to hurt us.
"It's time for them to fund PEIA now."
* Those interested in signing the petition can go to www.FixPEIA.com